MICRO FINANCE
Traditionally the rural women had quick access to funds from the informal banking system to meet their financial emergencies that push them to a debt trap. Microfinance combined the flexibility and availability of funds from the village moneylender with the transparency of institutional credit. Doorstep availability of credit through SHG-JLGs has now become a breakthrough for women empowerment.
Experience around the world indicates that woman borrowers are responsible and prudent investors as they have invested their loans on projects that gives good returns, enabling them to make timely repayments and use the profits for activities related to poverty alleviation..
LOAN PRODUCTS
FINANCIAL DEVELOPMENT
PORTFOLIO DISTRIBUTION
PAT's 'all women' borrowers are spread across 8 districts of Tamil Nadu viz. Ariyalur, Trichy, Tanjore, Nagapattinam, Thiruvarur, Thruvallur,Cudallore and Karur. 70 field staff operating from 20 branches oversee the governance of the 3436 groups and provides the training to Forty One thousand members, 83% of whom are active PAT borrower
As Of March 2019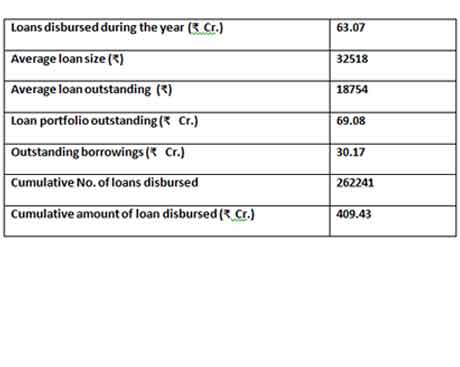 UTILIZATION OF LOANS
For the organization, which is involved in grassroots level financial inclusion, it is quite rewarding to note that 90% of the loans have gone into agriculture & allied sector. The sector is the largest livelihood provider for the nation, particularly in rural India. The sanctioned loans are utilized for vegetable cultivation, milch animal, goat rearing etc.
As Of March 2019
6 % of the loans are utilised for starting up small business such as tiffin centres, grocery shops, etc and another 4% went for service purposes ranging from welding shop, photocopying and salons. Thus all the loans are used to serve the public in their life cycle needs, whether it is food, clothing, shelter or providing for the comforts of life.
EFFICIENCY ANALYSIS
As Of March 2019
The borrowers are prompt in their repayments as reflected in the high 99.77% recovery rate. The Operational Efficiency(OER) of 6.80 is a positive indication for a micro loan institution, which used to be generally at a high proposition. There was a healthy reduction in total expense to average portfolio from last financial year and stands at 10.
FUNDING PARTNERS
As Of March 2019
The two public sector banks State Bank of India and Indian Overseas Bank have been the major funding partners, which reflects the credit worthiness gained by PAT over the years . NABKISAN Finance Ltd., a subsidiary of NABARD Bank has extended lending to PAT for agriculture allied purposes based on its formidable field presence in the rural parts of the state. Ahmedabad based NBFC Ananya Finance for Inclusive Growth Pvt. Ltd and Bangalore based Micrograam Social Development Foundation had also continued their financial lending to PAT.