SHG FINANCIAL INCLUSION
Unity is strength. If scattered women's strength is united, big things can be achieved. Uniting women and mobilizing their strength is the basic organizing process done through Self Help Group (SHG) promotion work. PAT organizes SHGs since the year 1998. SHGs play a major role in poverty alleviation and women empowerment in rural India. A maximum of 12-15 members will form a SHG and PAT has organized 2676 SHGs in 18 Districts of Tamilnadu (Trichy, Ariyalur, Tanjore, Nagapattinam and Thiruvarur ,...) as on March 2017. PAT actively engaged the members of SHGs in savings and internal credit as well as in other activities like income generation, natural resources management, literacy, child care and nutrition etc., This way it provides chance to women to have control over capital though it is small in size. The SHG system has proven to be a very relevant and effective in offering women the possibility to break gradually the gender inequality, exploitation and isolation. With the support of "Mahalir Thittam" of State Government SHGs were promoted in Ariyalur district and in other Districts PAT promoted the groups from its own resources. Different trainings were organized for these groups to build their capacity, to develop leadership, to manage and operate money and accounts and to interact with other stakeholders. Credit linkages with banks were arranged to undertake individual and group economic activities. These women groups are monitored from 18 Branches. Every month SHG meetings are conducted to discuss on various local and women related issues. These SHGs are active this way. PAT does follow up services in the way of disseminating development information and microfinance delivery to these SHGs to keep the spirit of self help development concept in them.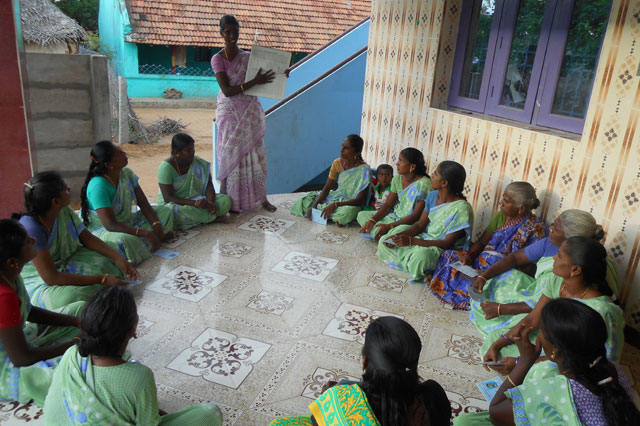 SHGs, being self-governed and peer-controlled informal fellowships of socio-economically homogenous families have a significant role in poverty alleviation. Interacting with other women in the group and resource persons members acquire knowledge, awareness and motivation. SHGs promote capacity building, build leadership abilities, develop life skills, inspire entrepreneurship and enhance governance capabilities besides increasing co-operation among the members – all which are constituents of sustainable development. Other aspects of SHG activities are creating awareness of rights and privileges of women, value of the girl child and her education, awareness on health, hygiene and environmental concerns. SHG groups are, further, the appropriate platform for financial empowerment of the women by organizing them around credit and related activities. Across Tamil Nadu PAT has 2676 active SHG groups, which women organised themselves around these activities leading to sustainable livelihoods through microcredit. This report has included some stories of people who have been benefited from the financial inclusion activities of PAT.
SUMMARY OF SHG
March 2019