EMPLOYABILITY SKILL TRAINING - PRACTICAL SKILLS DEVELOPMENT
COMPUTER CENTRES

Information Technology had swept the world and turned it into a global village, with advance mode of digital communications one can reach a person at any part of the world in fraction of seconds. However, the reach of IT to the remote parts of the country is very dismal compared to urban conglomerates. The access option to quality IT education for rural students was limited and it was observed they usually lack the competitive edge over their urban counterpart in getting employed.
In order to facilitate that the rural folk gets hands-on training in latest IT curriculum at an accessible distance, a computer training institute was started in Thiruppanandal, Thanjavur District in the year 2008 and another one in T-Palur, AriyalurDistirct in 2013. Both the centres are equipped with latest systems and power backup capacity, where the centres faculty provide them real-time training.
The course duration ranges from 45 days short-term courses to 1 year diploma, a total of 112 students enrolled and received certificate from the centres.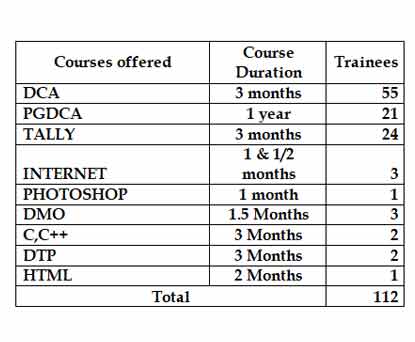 TAILORING CENTRES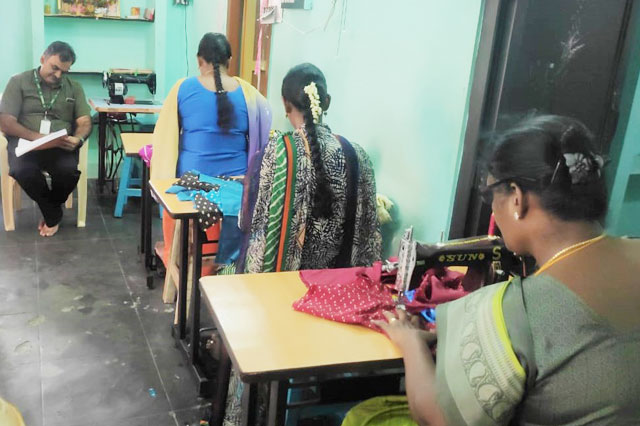 For years, the rural landscape of the Indian nation used to be agriculture-centric. The sector had been the employment generator for the rural people, particularly women. The introduction of modern equipment had limited the manual process, and as a result many turned jobless. The job loss in women has impacted the family, who economically contribute to meet the pressing needs of the family. Also the adolescent and school dropouts languish in vain at their homes.
This had prompted PAT to implement vocational training program in their areas of operations by opening tailoring centres at Thiruppanandal and nearby Aduthurai at Thanjavur District. Another centre was opened in the year 2016 at Melapudur – Trichy. These centre's staff train the enrolled to stitch blouse, skirts, salwaretc and make them aware about the measurements requirement of the wide range of garments. In the year 2018-19 around 75 women got trained at Thirupanandal, 62 at Aduthurai and 70 at Melapudur – Trichy totalling it to 207.
Most of them on course completion either began their own shops or involved in stitching from home to make a livelihood. The substantial money they earn from the profession comes handy to meet their life cycle needs, education and emergency expenses.