EDUCATION
EMPOWERMENT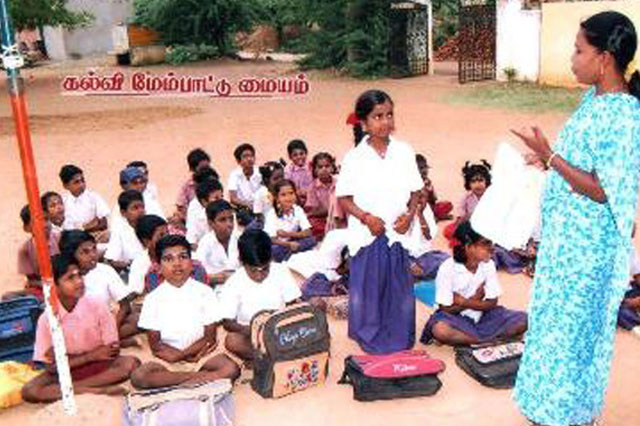 Coaching Centres: PAT has twenty coaching centres with intake of 30 students each. The organizations' commitment to the holistic development of the community and the individual has necessitated various programs. The leadership, well accustomed to the rural situations of the state observed the startling number of school dropouts, especially girls, just because they did not have the proficiency in languages and Maths. Intervention in this issue was made through starting coaching centres in a few places in 1999. Having seen its efficacy, more Educational Empowerment Centres were added to the current 30. A total of 600 students at the level of secondary or higher secondary classes gather at these centres, for two hours a day, between 4-6 in the evening. Each centre has an intake of 30 students and a qualified guide supervises the daily revision of their lessons, besides occasional tests to help them locate the areas where they need improvement.
Off-school Educational Coaching
Education is one of the basic rights of children. India is aiming to cover all children to get basic education under its special program SSA. The number of Panchayat Union primary schools started by the State Government even in remote villages in support of their "education to all" mission brought educational awareness among the rural people. But educational aptitude and educational achievements are marginal in rural areas since most of the children are first-generation school goers who have no coaching support at their home. Thus they become under-competitive and under-achieving when compared to their urban counterparts.
The list of coaching centers with the number of students benefiting:
PAT realized this need and started centers to provide Off-school educational coaching in villages to improve the educational aptitude and achievements of rural children to make them equally competitive with their urban counterparts or other privileged children in higher education and in job market later. 20 coaching centers are currently in operation in Ariyalur and Thanjavur Districts for children studying IV and V standards. These centers offer the following services: Extra coaching on school subjects where the children are weak or unable to cope up in some areas of the subject Stimulation to learn by themselves by understanding the concept of the subject Confidence development practices to face challenges in the world Inculcation of moral and ethical values Developing curiosity to know about the happenings around them in the world (General knowledge)
| S. No. | Location Of Coaching Center | No. of Students |
| --- | --- | --- |
| 1 | Adichanur | 30 |
| 2 | Suthamalli | 30 |
| 3 | Nayaganaipriyal | 30 |
| 4 | Porpathinthanallur | 30 |
| 5 | Cholamadevi | 30 |
| 6 | Kodalikaruppur | 30 |
| 7 | Kodali | 30 |
| 8 | T.K.P.Natham | 30 |
| 9 | Edankanni | 30 |
| 10 | Chinthamani | 30 |
| 11 | Thathampettai | 30 |
| 12 | Sripuranthan | 30 |
| 13 | Govindaputhur | 30 |
| 14 | Vikramangalam | 30 |
| 15 | Kadambur | 30 |
| 16 | Periathirukonam | 30 |
| 17 | Venmankondan | 30 |
| 18 | Nagamangalam | 30 |
| 19 | Karaikurichi | 30 |
| 20 | Sathambadi | 30 |
| | Total | 600 |